Overview
The 6700U series is a food safe, legal for trade scale. Using USB, this POS point-of-sale interface scale is ideal for linking to a wide range of electronic cash registers, printers, tablets or to other POS integrated systems. Food safe & NSF approved, with easy to clean 304 stainless steel weight platters making it ideal for use with a wide range of foods or food processes.
This scale comes in a range of base sizes and capacities with optional columns or remote display options. This scale has been designed to be simple to use with an easy to read LCD back lit display. Although very popular due to its POS USB plug and play connectivity, this scale has other time saving features making it ideal for other food prep or industrial kitchen applications.
Hands free touchless tare, ideal for recipe /portion control applications, with a built in photo eye that can easily be turned on to activate by hand movement in front of the display, to simple checkweighing to basic counting. All to help guarantee that all goods sold are to weight of quantity.
Typical Applications: Point of Sale, Portion Control
Approvals:
Specifications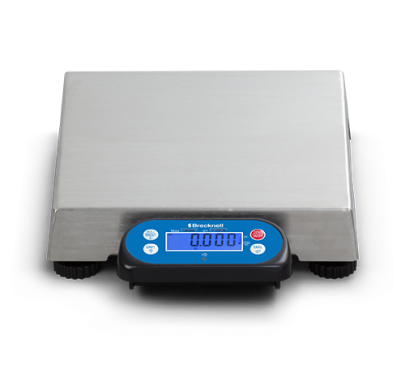 Scale Dimensions
6" x 10" / 154 mm x 254 mm
6" x 10" / 154 mm x 254 mm
6" x 10" / 154 mm x 254 mm
10" x 10" / 254 mm x 254 mm
10" x 10" / 254 mm x 254 mm
12" x 14" / 305 mm x 355 mm
12" x 14" / 305 mm x 355 mm
12" x 14" / 305 mm x 355 mm
12" x 14" / 305 mm x 355 mm
Product Code
6702U (2.5kg / 5lb) – 816965006137
6702U (7.5kg / 15lb) – 816965005857
6702U (15kg / 30lb) – 816965006083 6710U (7.5kg / 15lb) – 816965005864
6710U (15kg / 30lb) – 816965005871 6720U (7.5kg / 15lb) – 816965005888
6720U (15kg / 30lb) – 816965005895 internal display
6720U (15kg / 30lb) – 816965005901 remote display
6720U (30kg / 60lb) – 816965006144
Display
ABS plastic housing. 5½ digits eight segments 15 mm / 0.59" high LCD with blue backlight
Capacity
5 lb / 2.5 kg
15 lb / 7.5 kg
30 lb / 15 kg
60 lb / 30 kg
150 lb/ *68 kg
Product Differentiators
≤ .01% accuracy
Weighs in kg, lb, oz, g, lb:oz
NCI, ECR, 8213 (Sharp), 2250 (Swintec), ATT, 0400 (Olympia) interface protocols
Bi-directional 9-pin RS-232 and USB port. Interfaces to most electronic cash registers and point of sale software
Quick disconnect makes all cable connections easy
"Touchless" Tare electronic mechanism enhances food handling safety
Check weighing, count weighing, peak/hold
NSF listed, NTEP approved, Measurement Canada approved
Product Resources
These resources help you get the most out of your Brecknell product. Can't find what you're looking for? Contact Us